Change Research is a leader in polling innovation, able to field polls quickly and accurately at a low price point. We recruit new participants online for each and every poll, so Change Research polls are not affected by the dwindling response rates of phone polling. We use proprietary and patent-pending approaches to recruit fresh participants, and we don't rely on online panels of habitual survey takers.
We collect survey responses by publishing targeted online solicitations via advertisements on websites and social media platforms. By finding a representative set of respondents via web and social media to take a poll, we are able to cast a net that is wider than phone polls. We reach millennials and seniors, rural and urban dwellers, and members of every gender, race, creed, and political persuasion.
Change Research was the only pollster to predict that Andrew Gillum would win the 2019 Florida gubernatorial primary; most other polling found him no higher than 3rd place.
Change Research was the only pollster to predict that Lori Lightfoot would win the 2019 Chicago mayoral primary; the average of our two polls had her leading by 2 points, and she finished 1.5% ahead on Election Day.
"Telling the Right Story:
Pollster Accuracy & What You Need to Win"
Our co-founder and former CEO Mike Greenfield explains how Change Research sees the role of a pollster.
How it works
Learn more about Change Research polling methodology
Target the right respondents – fast
We use our proprietary geo-targeting technology to find respondents in a specific district, be it a city council district, Congressional district, or the entire nation. We locate respondents rapidly and can deliver results as little as hours after a poll launched. For instance, we fielded an 800-person survey in only 24 hours in Iowa's 4th Congressional District before the 2018 elections; we found that Democratic challenger JD Scholten was within a point of unseating Republican incumbent Steve King. The poll results sparked a flood of donations to the Scholten campaign, with over $900,000 raised within 48 hours.
Dynamically adjust response collection
As we are collecting survey responses, Change Research's patent-pending Dynamic Online Sampling Engine adjusts our targeting to ensure a sample that reflects the electorate or population. We establish — and can rapidly adjust — advertising targets across age, gender, race, and partisanship to reflect a district's demographics. Any imbalances in the survey sample can be quickly detected and corrected while the survey is still fielding, rather than relying solely on post-survey techniques for big corrections.
Extrapolate to the population
Once all the responses are collected, our technology quickly and accurately conducts post-stratification to ensure that all segments of the electorate are properly weighted in the poll. We also utilize models based on tens of thousands of historical data points to estimate turnout, instead of relying solely on the patterns of a prior election.
Engage our natural language processing engine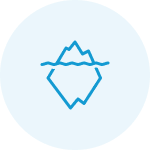 Change Research can perform language analysis, powered by Meaning Finder, on each poll we field, allowing our survey data analysts to find the deeper meaning in thousands of open-ended text responses. Our technology can parse hundreds or thousands of text-based responses from survey-takers and classify them into themes, providing the qualitative insight of a focus group at the scale of a large-sample poll.
Build an unprecedented data set
We've asked thousands of questions of nearly two million Americans since our founding in 2017; we're creating a massive and ever-growing database of public opinion research. Performing sophisticated analysis of this database allows us to recognize trends that help forward-thinking candidates and causes build winning strategies.
How does Change Research compare to other methods?
Ready to win?
Build a winning strategy backed by powerful polling insights.