Change Research California Poll: October 15-October 18, 2019
Key Takeaways: 
Californians have lost faith in large, Wall Street-driven publicly traded companies to put people first. The plurality of Californians (40%) want the basics — light, power and public safety — to be managed by smaller, regional utilities that will prioritize community interest over investor interest.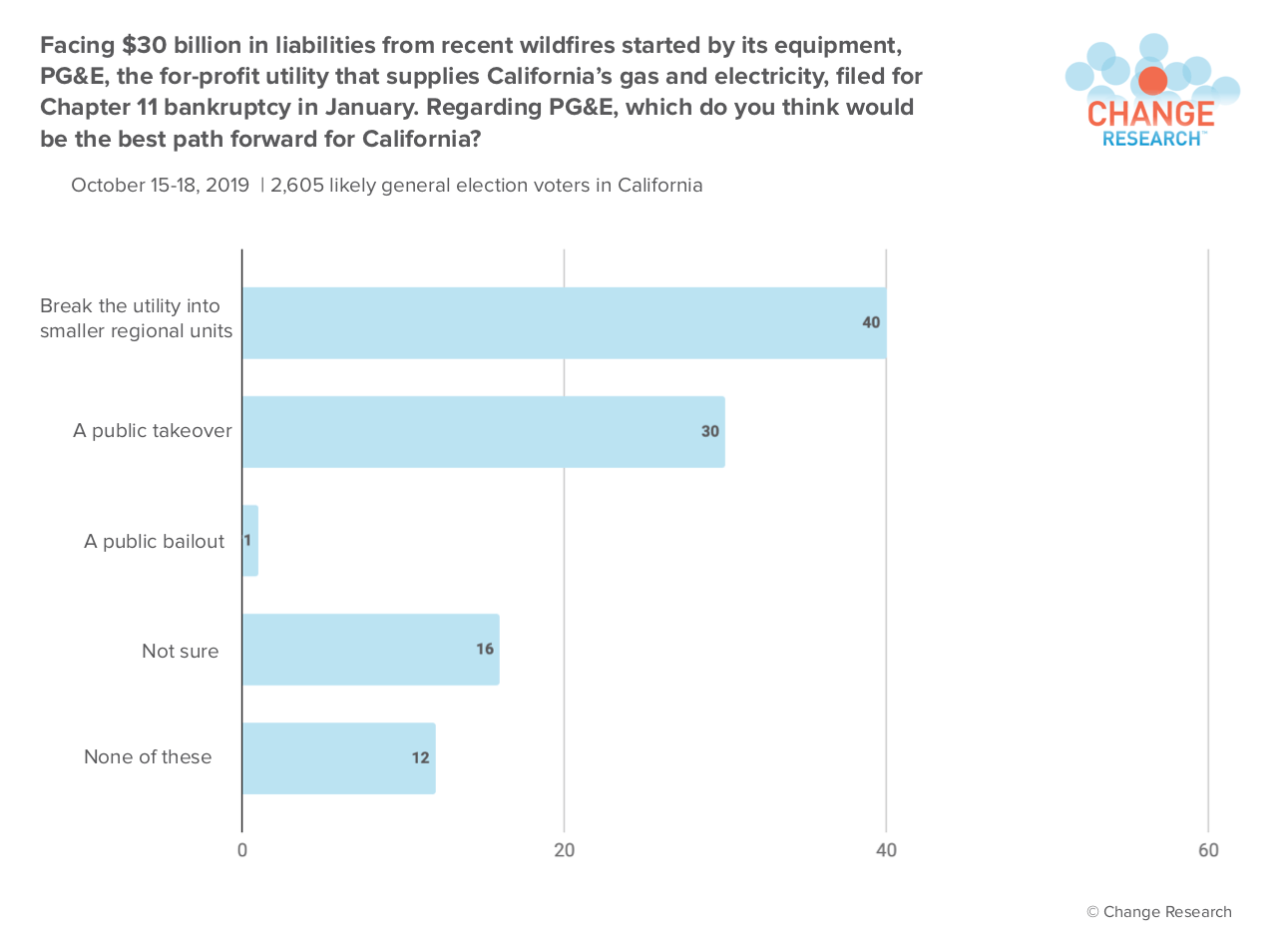 Voters don't believe in the large utilities' ability to handle future blackouts. Just 32% believe that utilities know best and should retain autonomy. An equal share believe state regulators should have that power when these outages occur. Another 33% are not sure."
Management of wildfire season and the shut downs is clearly dragging down elected officials with only 47% of Californians disapproving of Governor Gavin Newsom's handling the electrical shutdowns, though his numbers were better than "local elected officials" who came in at 52%.
When asked what they would like to happen if similar levels of fire danger were to occur, 55% of respondents would be willing to lose power for several days, while 18% of respondents would rather risk a wildfire. 27% of respondents said they were unsure. Republicans were more likely to be willing to risk a wildfire, with 32% of Republicans saying that they would rather risk a wildfire, while only 11% of Democrats and 17% of Independents said that they would rather take the risk.
PG&E had a 49% unfavorable rating when we started polling in California in February of this year. 8 months later that has risen to 61% unfavorable. Just 9% rate them favorably. This rejection of PG&E transcends party – 59% unfavorable with Democrats, 65% with Independents, and 61% with Democrats.
2020 Change
Change Research's 2020 Change polling series is offering candidates and causes an opportunity to access deeper insights for a strategic advantage.
​
2020 Change is a series of individual polls and aggregate polling memos. 
​
The polls cover local issues far beyond the Democratic nomination, providing actionable insights for those working on ballot measures, issue advocacy campaigns, down-ballot races, or other legislative initiatives. 
​
You can buy a single poll, a series of polls from a specific state (e.g., California polls only), or choose the combination that's right for you. Purchase a poll or series of polls to gain access to surveys of large samples of Democratic primary voters across demographic groups and areas of the United States.
​
Learn more about purchasing polls.
​
Change Research surveyed 2,605 likely general election voters in California. The margin of error as traditionally calculated is  ± 1.9% for the full sample. Change Research reaches voters via targeted online ads that point people to an online survey instrument. Our Bias Correct Engine dynamically delivers large samples that accurately reflect the demographics of a population. Post-stratification was done on age, gender, ethnicity, region, 2016 primary and presidential vote, and self-reported social media use.